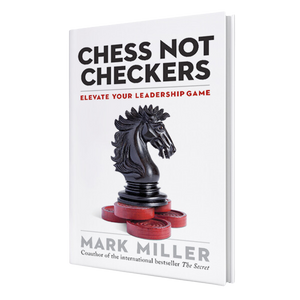 In Chess Not Checkers, adapting strategies from the game of chess, Mark Miller reveals four essential moves all high-performance organizations make. They bet on leadership, act as one, win the heart, and excel at execution. Chess Not Checkers is an accessible and easily applied guide to help leaders elevate their own leadership and the performance of their team. 
The book introduces readers to a first time CEO, Blake Brown, who finds himself in over his head in a struggling organization. When he turns to his mentor, Debbie Brewster, for help, she sends him to Jack Deluca. Not only is Jack a former successful CEO, but he is also a grandmaster chess player. Using chess as an analogy, Jack teaches Blake the four moves high performance organizations use to gain a competitive advantage.
The book will challenge your organization to think differently and position you to win.